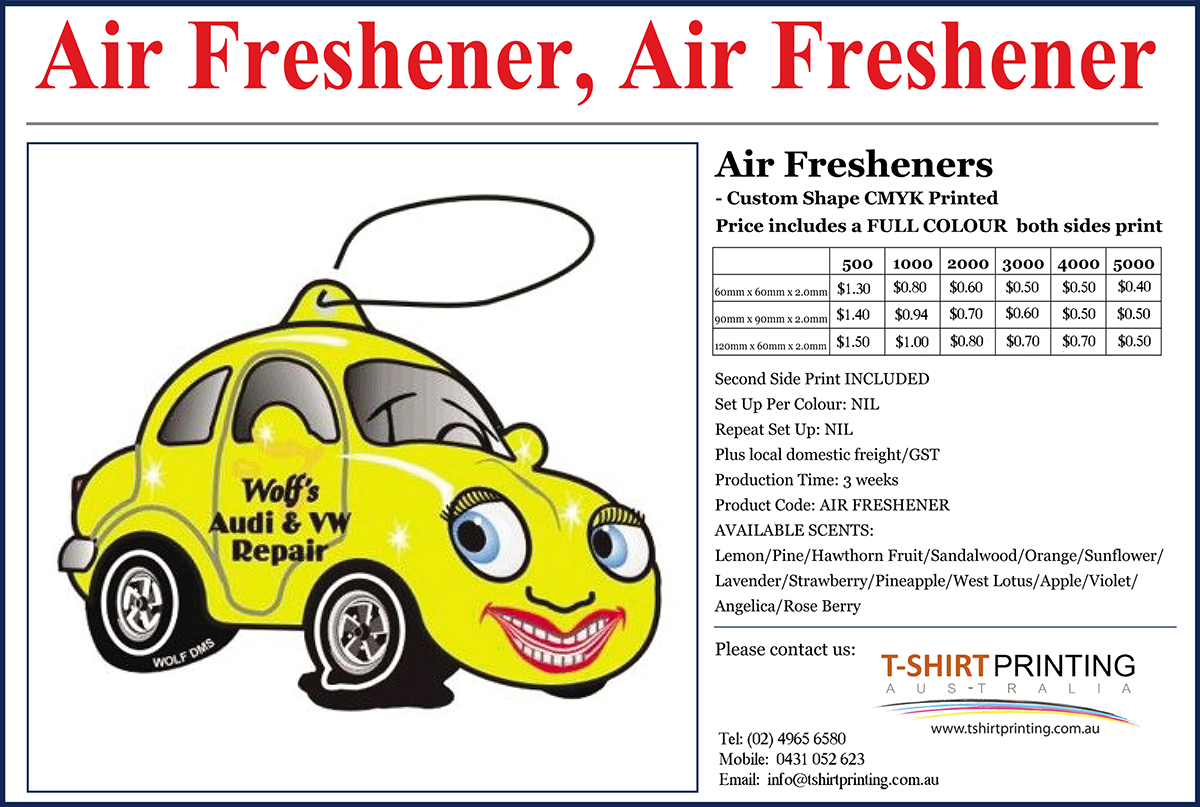 Custom Air Fresheners
Our custom made car air freshener are manufactured with a long list of amazing fragrances,  stylishly cut into eye-catching shapes, printed both side with a bold clear message from your company. That's the freakish power of custom made auto fresheners.
Let's face it!. Nobody wants to ride around in a car that smells like stale French fries, old gym socks and a spilt bottle of diet coke. Everyone wants freshness. Every person wants something that smells good and makes a car ride more comfortable and enjoyable. That's why car air fresheners where invented.
In a nutshell, air fresheners are inexpensive, fun, highly visible, effective promotional items that attract multiple senses.
Inexpensive
What a great idea! Custom air fresheners. They're inexpensive. Why not hand out custom printed car aromas at your next trade show. We all know, you want your giveaway items to be memorable. They are the perfect item.
Fun
They can be printed in bright full colours and cut to any shape they can very visually pleasing, even stunning to look at. Combine that with a wonderful fragrance, you have a winning combination.
Highly Visible
Car air fresheners are highly visible promotional items, especially in cars. Making them very effective at advertising your brand or products .
Since cars are a common mode of transport for people all over the world, your brand could be just hanging in front of your customers, reminding them of your business everyday, day after day.
Effective
They are super affordable, have a great exposure, smell good and have a long shelf life. You're now able to advertise your brand in car windows, hanging off indicators around your rear view mirror.
You can also advertise your brand without a car around your home. Our custom made fresheners offers a great chance to good business brand awareness. You can also use fresheners to add a sweet touch of freshness around the office or home.
Benefits of Personalised Car Aromas
We offer full-colour printing on both sides
There is no setup fees
These custom air fresheners are perfectly customized in different shapes and sizes
We have printing of large sizes up to 120mm x 60mm
We offer a wide range of fragrant scents.  Lemon, Pine tree, Hawthorn Fruit, Sandalwood, Orange, Sunflower, Lavender, Strawberry, Pineapple, West Lotus, Apple, Violet, Angelica, Wild berry.
Prices are reduced than most companies that produce similar products.
High quality cards and long lasting fragrance.
How Do Car Air Fresheners Advertise your Business?
When your Air Fresheners are used in the vehicle, they first give out a fragrance that attracts the occupants, and then the eyes are drawn towards the message. Your message.  Hanging on the mirror, they can easily be seen by all the other passengers. Even the aroma can be a talking point.
This is a great way for a smart  company to promote their products and services as the printed Auto Air Fresheners will be always visible and attracting the vehicles occupants.
For the benefit of the advertiser as well as the customers, the Personalized Car Air Freshener is printed in full colour on both sides and seen from every angle.
Different sizes of the prints and the freshener are available, and you can choose the one that they want, as per their size requirements.
Another great feature of customisation is that it comes in varied shapes and sizes especially ordered to your exact requirements.
The prints on the Custom Auto Fresheners are seen by all the passengers, and even, there could be discussions on the topic of the message. This further adds to the promotion of the product or services that are advertised through the Printed Air Freshener.
What are the different Fragrances Available?
The Custom Auto Air Fresheners are available in different fragrance and give a great ambience in the interior of the vehicles so that the mood of the driver and passengers is lifted.
Scents like: Lemon, Pine tree, Hawthorn Fruit, Sandalwood, Orange, Sunflower, Lavender, Strawberry, Pineapple, West Lotus, Apple, Violet, Angelica, Wild berry.
How Long do fresheners take to get Printed?
They are custom manufactured and delivered to most locations in Australia within 4 weeks. If you want to promote your brand and products in Australia, you can order custom air fresheners and will be delivered in within four weeks.